The University of Health Sciences (UHS) Lahore requires the services of Subject Specialists as Visiting Faculty to teach students of BS programs for current academic session at Jinnah Campus Kale Shah Kaku in the following subjects.
Interview Dates are 1st March 2022 & 2nd March 2022.
The interview Venue is the University of Health Sciences, Khayaban-e-Jamia Punjab, Lahore.
List of Subjects:
Anatomy
General Pathology
Immunology
Pharmacology
Public Health
Biochemistry
Microbiology
Behavioral Sciences
Hematology
Physiology
Epidemiology
Mathematics
Computer Sciences
Biotechnology
Physics
Psychology
Medical Anthropology
Biology
Mass Communication
Islamic Studies
Pakistan Studies
Biostatistics
Therapeutics Exercise and Techniques
Physical Agents and Electro Therapy
Cardiopulmonary Physical Therapy
Neurological Physical Therapy
Musculoskeletal Physical Therapy
Health Assessment
Nursing Leadership
Nursing Theory
English
Business Studies
Human Nutrition
Spanish / French
Entrepreneurship
These jobs are announced in express newspaper.
Official Advertisement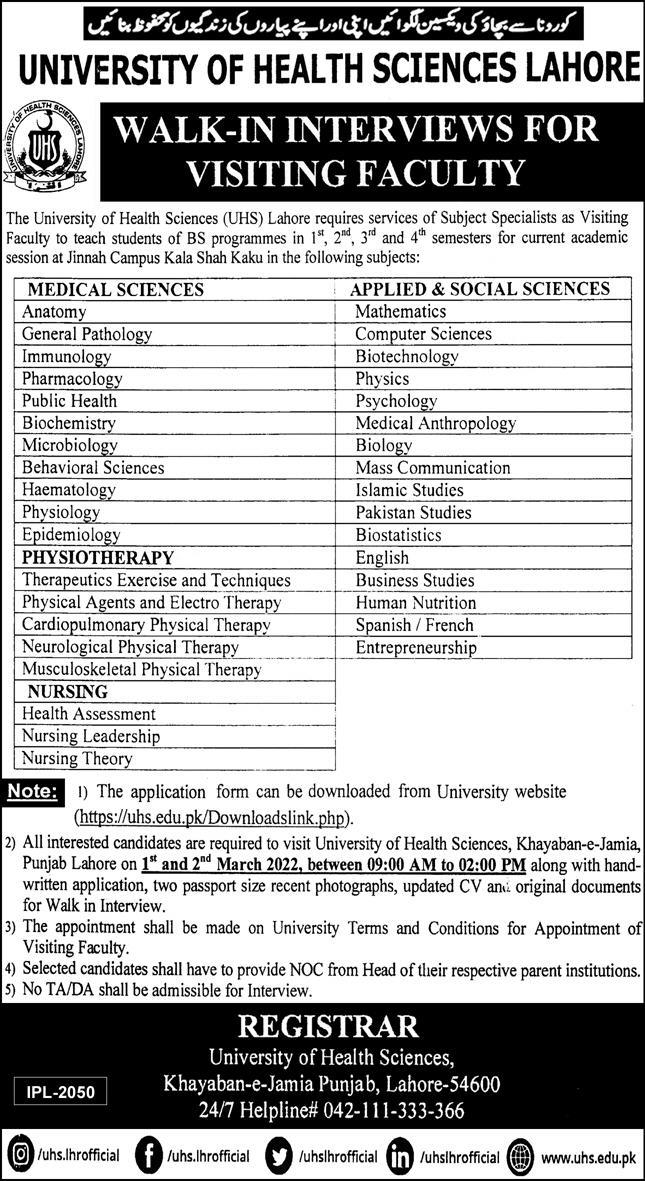 Follow Us
For daily job alerts Join our Facebook Group.
Tiktok Users you can Follow Us on TikTok.
Direct Contact Us on Facebook on Parho Pakistan Official ID
On Twitter Join us on Twitter https://twitter.com/parhojobs.
For Instagram Lovers we are live and you can follow us on Instagram.
For all the latest vacancies list Visit the Main Page of Parho Pakistan – Latest Jobs in Pakistan.
For any Query related to Parho Pakistan Whatsapp on 0307-2277888.