NOTIFICATION about Punjab School Closed in 25 Districts.

All Public & Private Schools will be closed immediately in the Districts stated below in the Notification till further notice. Classes 9,10,11,12 will also be closed in these Districts starting Monday 26, 2021.
Punjab Education Minister for Schools Murad Raas tweeted about closure of all schools including 9th, 10th, 11th & 12th in 25 Districts of Punjab due to worst conditions of Covid-19 3rd wave.
Official tweet & notification of school closures is given below.
Punjab School Closed in 25 Districts Official Notification.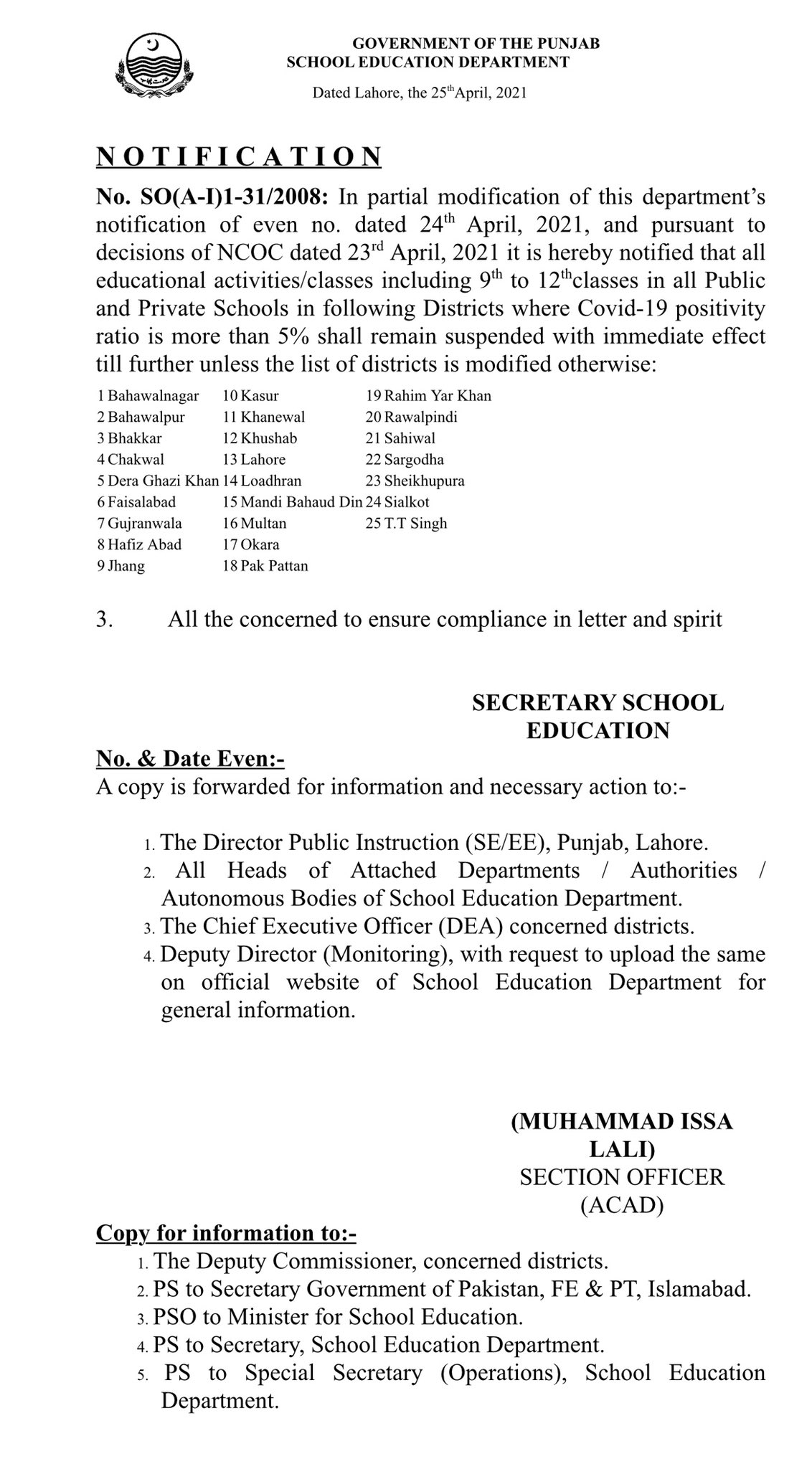 No. SO(A-I)1-31/2008: In partial modification of this department's notification of even no. dated 24th April, 2021, and pursuant to decisions of NCOC dated 23rd April, 2021 it is hereby notified that all educational activities/classes Including 9th to 12thclasses in all Public and Private Schools in following Districts where Covid-19 positivity ratio is more than 5% shall remain suspended with immediate effect till further unless the list of districts is modified otherwise:
1 Bahawalnagar 10 Kasur 19 Rahim Yar Khan
2 Bahawalpur 11 Khanewal 20 Rawalpindi
3 Bhakkar 12 Khushab 21 Sahiwal
4 Chakwal 13 Lahore 22 Sargodha
5 Dera Ghazi Khan 14 Loadhran 23 Sheikhupura
6 Faisalabad 15 Mandi Bahaud Din 24 Sialkot
7 Gujranwala 16 Multan 25 T.T Singh
8 Hafiz Abad 17 Okara
9 Jhang 18 Pak Pattan
3. All the concerned to ensure compliance in letter and spirit
SECRETARY SCHOOL EDUCATION
No. & Date Even:-
A copy is forwarded for information and necessary action to:-
The Director Public Instruction (SE/EE), Punjab, Lahore.
All Heads of Attached Departments / Authorities /
Autonomous Bodies of School Education Department.
The Chief Executive Officer (DEA) concerned districts.
Deputy Director (Monitoring), with a request to upload the same
on the official website of School Education Department for general information.
(MUHAMMAD ISSAL ALI) SECTION OFFICER (ACAD)
Copy for information to:-
The Deputy Commissioner, concerned districts.
PS to Secretary Government of Pakistan, FE & PT, Islamabad.
PSO to Minister for School Education.
PS to Secretary, School Education Department.
PS to Special Secretary (Operations), School Education Department.