Punjab Govt Employees Dharna 2022 on 15 March 2022 for Disparity Allowance for Punjab continues in Lahore. AGEGA Punjab and other unions including teachers & other Punjab Govt departments are participating.
The purpose of this Dharna sit-in is to force the govt of Punjab to grant the disparity allowance as Federal Govt granted a 15pc Disparity reduction allowance to federal govt employees.
Salary Increase Federal Govt Employees Grant of Disparity Reduction Allowance 2022
Today in Lahore this protest is continued by employees of Punjab Govt so that govt can order the same notification by Punjab Finance Department as Federal Finance Division issued.
Let's wait for official news by Govt of Punjab for any 15pc disparity allowance or 15 pc special allowance 2022 for Punjab Govt employees.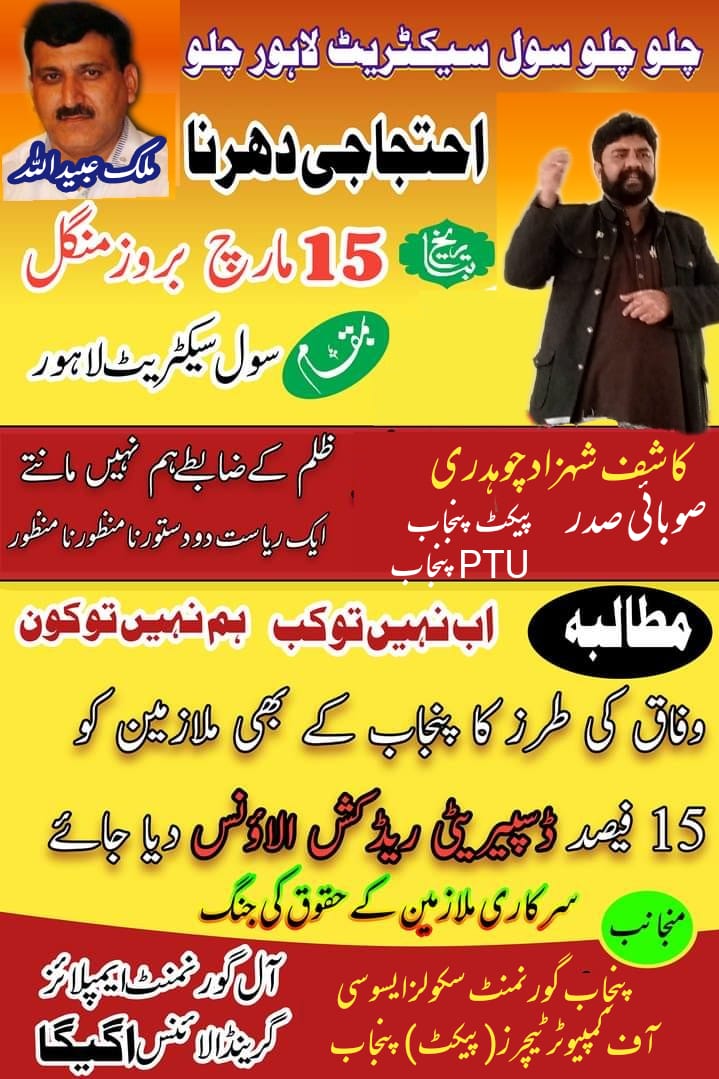 For more details you can check Twitter account of Kashif Shahzad Ch. (Provincial President) PTU & PACT Punjab). https://twitter.com/ptupunjab1937
Follow Us
For daily job alerts Join our Facebook Group.
Tiktok Users you can Follow Us on TikTok.
Direct Contact Us on Facebook on Parho Pakistan Official ID
On Twitter Join us on Twitter https://twitter.com/parhojobs.
For Instagram Lovers we are live and you can follow us on Instagram.
For all the latest vacancies list Visit the Main Page of Parho Pakistan – Latest Jobs in Pakistan.
For any Query related to Parho Pakistan Whatsapp on 0307-2277888.