A Public Sector Organisation, Government of Pakistan, Islamabad invites purely temporary and shod-term Project positions for "a Federal Funded Project under execution in Karachi". Only those candidates who fulfill the eligibility criteria should apply.
Public Sector Organization Islamabad Government of Pakistan is looking to hire Project Director, Contract Specialist, Planning Engineer, Project Engineer. There are vacancies for Chief Quantity Surveyor, Chief Account Officer, Admin & Account Officer, Quantity Surveyors, Site Inspector, Computer Operator & Data Collecting officer (DCO) Officers.
Important Dates To Remember
| | |
| --- | --- |
| Announcement Date | 04 July 2021 |
| Last Date To Apply | 18 July 2021 |
Public Sector Organization PO BOX 3356 Jobs 2021 Details.
Vacancies Details.
Sr.No
Post Name
PPS
Duty
Location
No. of
Posts
Qualification I Experience
Project Director
10
Karachi
1
Minimum 16 years of education
Contract Specialist
10
Islamabad
1
Minimum 16 years of education
Planning Engineer
9
Islamabad
1
Bachelor's degree in Civil Engineering/ Diploma in Project Management.
Project Engineer
8
lx Islamabad 2x Karachi
3
Qualified Civil Engineers
5 .
Chief Quantity Surveyor
8
Islamabad
1
Bachelor's degree in Civil Engineering
6.
Chief Account Officer
8
Islamabad
1
Minimum 16 years of education preferably with BBA degree
7.
Admin & Account Officer
7
lx Islamabad 1x Karachi
2
Minimum 16 years of education preferably with BBA/ MBA
8 .
Quantity Surveyors
6
lx Islamabad 3x Karachi
4
A SubEngineer with DAE (civil)
9
Site Inspector
6
lx Islamabad 3x Karachi
4
A Sub Engineer with DAE (civil)
10
Computer Operator
5
Islamabad
1
Diploma holder in computer will be preferred.
11.
Data Collecting officer (DCO) Officer
4
Karachi
1
A metric degree holder
How to Apply?
Interested candidates fulfilling the eligibility criteria may submit their applications along with CV within 15 Days of publication of this advertisement at under mentioned address.
Name of Post should be Mentioned at top of the Application in Bold/ capital e.g. "PLANNING ENGINEER"
If a candidate is interested to apply for more than one post, a separate application is required to be submitted.
Mobile numbers and the Mailing addresses of candidates should also be mentioned in the application.
Official Advertisement: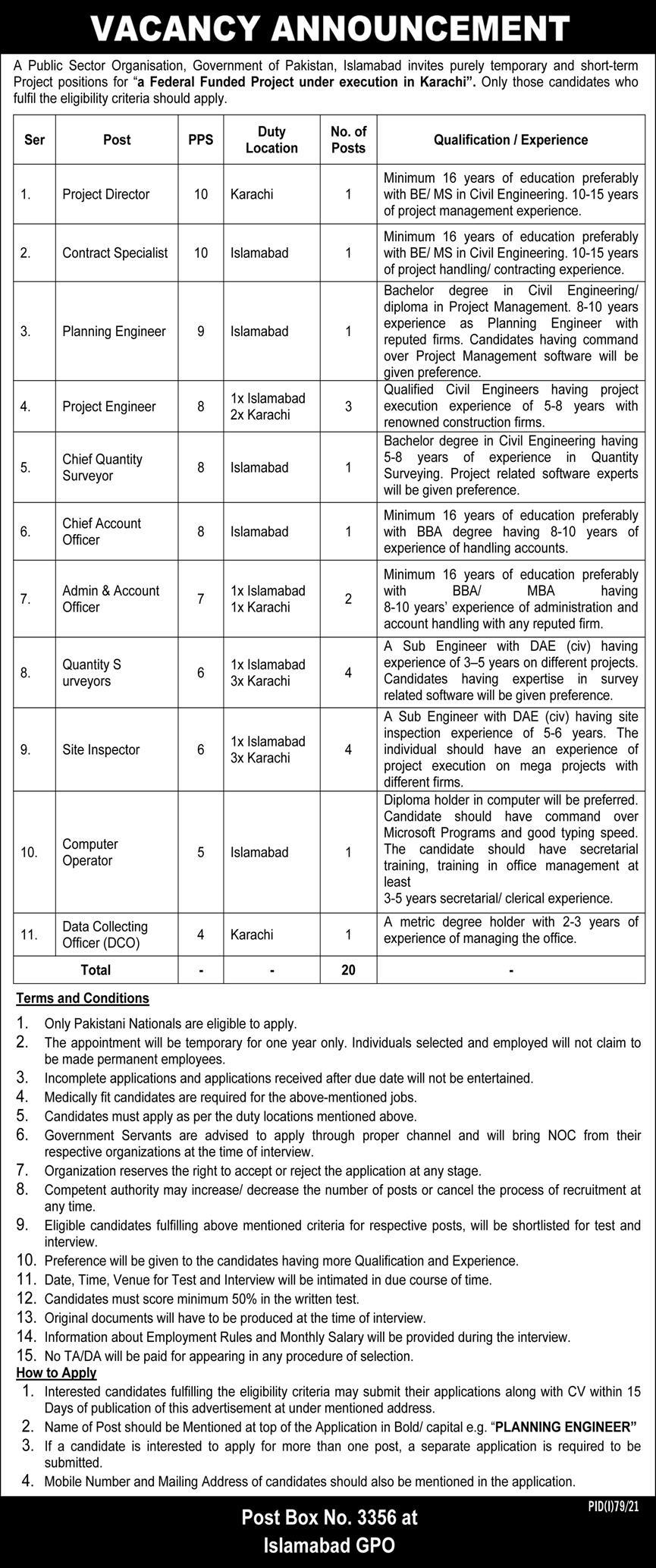 General Instructions:
Only Pakistani Nationals are eligible to apply. The appointment will be temporary for one year only. Individuals selected and employed will not claim to be made permanent employees.
Incomplete applications and applications received after the due date will not be entertained. Medically fit candidates are required for the above-mentioned jobs.
Candidates must apply as per the duty locations mentioned above. Government Servants are advised to apply through the proper channels and will bring NOC from their respective organizations at the time of interview.
The organization reserves the right to accept or reject the application at any stage. The competent authority may increase/ decrease the number of posts or cancel the process of recruitment at any time.
Eligible candidates fulfilling the above-mentioned criteria for respective posts will be shortlisted for tests and interviews.
Preference will be given to the candidates having more Qualifications and Experience. Date, Time, Venue for Test and Interview will be intimated in due course of time.
Candidates must score a minimum of 50% on the written test. Original documents will have to be produced at the time of the interview. Information about Employment Rules and Monthly Salary will be provided during the interview.
You Should Follow Us for Next Updates
For daily job alerts Join our Facebook Group.
Tiktok Users you can Follow Us on TikTok.
Direct Contact Us on Facebook on Parho Pakistan Official ID.
On Twitter Join us on Twitter https://twitter.com/parhojobs.
For Instagram Lovers we are live and you can Follow us on Instagram.
For all the latest vacancies list Visit the Main Page of Parho Pakistan – Latest Jobs in Pakistan.
Brief Information
| | |
| --- | --- |
| Title | Public Sector Organization PO BOX 3356 Jobs 2021 |
| Posted on | 2021-07-04 |
| Valid Through | 2021-07-18 |
| Organization | Public Sector Organization |
| Location | Islamabad |
| Minimum Salary | 25000 |
| Maximum Salary | 95000 |