Prime Minister PM Shehbaz Sharif has announced a mega Kissan Package under which farmers will be provided subsidized loans worth 1800 billion rupees on 1st November 2022.
5 Years Old Tractors Can be imported at half-duty rates. 3 Lacs Tube Wells will be shifted to a Solar Power system. Interest-Free loans for Farmers without land are approved in PM Kissan Package 2022.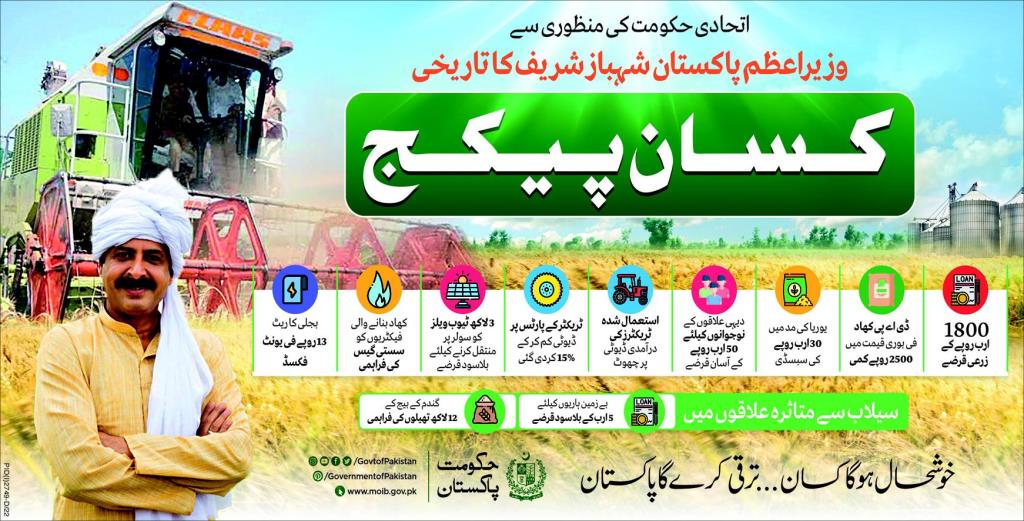 DAP Fertilizer price is reduced up to 2500 rupees per packet. 12 Lacs packets of seeds are distributed among flood-effective farmers.
Electricity will be provided at a fixed rate of 13 Rupees per unit to farmers. Farmers will get loans of 1800 billion rupees from the Federal Govt of Pakistan in Kisan Package 2022. Flood Effective Farmer's Interest is forgiven and they will get 10 Billion in loans.
Loans of 50 billion rupees are approved for the youth of rural areas who want to work in the agriculture sector. The new price of DAP is 11250 Per packet.
Details of PM Kissan Package 2022
Follow Us for Future Updates
For daily job alerts Join our Facebook Group.
Tiktok Users you can Follow Us on TikTok.
Direct Contact Us on Facebook on Parho Pakistan Official ID
On Twitter Join us on Twitter https://twitter.com/parhojobs.
For Instagram Lovers we are live and you can follow us on Instagram.
For all the latest vacancies list Visit the Main Page of Parho Pakistan