Pakistan Army Civilian Jobs in Central Ordnance Depot Sargodha. Pakistan Army sub-department COD Sargodha announces various vacancies in an express newspaper on 10th October 2021.
Important Dates To Remember
The last date to apply is 25 October 2021.
Details of Pakistan Army Civilian Jobs 2021 in COD Sargodha
StenoTypist
Drafts Man
LDC Clerk
Gate Keeper
Impositor
Fire man
Sanitary worker
USM Labour
How to Apply?
Download Sample Application Form
Send the Application Form to the Following address with Photos & Documents copies.
Regional Headquarters Military Land & Cantonments Department Bangla No 71-A Tufail Road Lahore Cantt.
Click here to subscribe to Email Jobs Alerts
Official Advertisement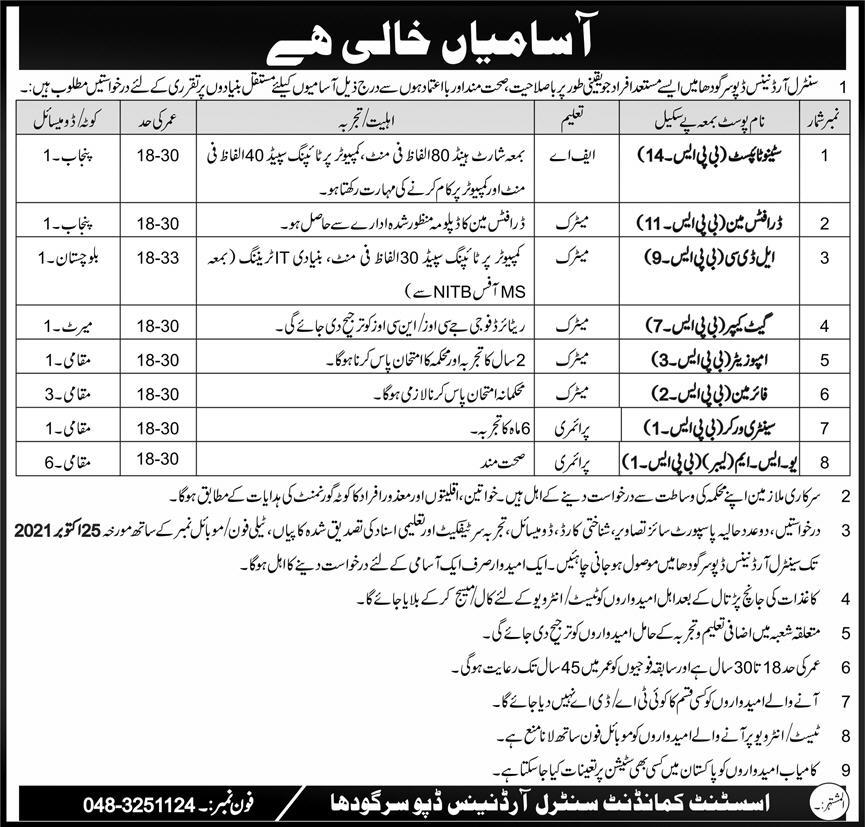 For daily job alerts Join our Facebook Group.
Tiktok Users you can Follow Us on TikTok.
Direct Contact Us on Facebook on Parho Pakistan Official ID.
On Twitter Join us on Twitter https://twitter.com/parhojobs.
For Instagram Lovers we are live and you can follow us on Instagram.
For all the latest vacancies list Visit the Main Page of Parho Pakistan – Latest Jobs in Pakistan.
For any Query related to Parho Pakistan Whatsapp on 0307-2277888.