Applications are invited from Pakistani nationals meeting eligibility criteria for the following positions. The requisite minimum qualifications / experience, age limit and domicile for the posts are as under.
Important Dates To Remember
| | |
| --- | --- |
| Announcement Date | 10 March 2021 |
| Last Date To Apply | 25 March 2021 |
Sr.No
Post Name
Number
of Posts
Regional Quota
Age Limit
Qualification / Experience
1
Driver (BS-04)
01
Punjab =01
18-25
Matriculate Holder of a valid driving license with adequate experience and well versed in the traffic rules.
 2
Naib Qasid (BS-01)
01
Preferably Local Basis
(Disabled Quota)
18-25
Middle Pass
 3
Chowkidar (BS-01)
(31
Preferably Local Basis
18-25
Middle Pass
How to Apply?
Interested Pakistani Nationals meeting the above-mentioned eligibility conditions may send their applications on plain paper giving full name, CNIC No., date of birth, domicile, contact No., detail of educational qualification, the experience of driving and postal address.
All Applications addressed to Deputy Director (Admn.), National Tariff Commission, Post Box No. 1689, GPO Islamabad must reach within 15 days of publication of this advertisement.
Unsigned/ Incomplete applications or appfications received after due date will not be considered and no intimation will be given.
Please mark the envelop with the post applied for
Only short-listed candidates fulfilling the prescribed conditions will be called for skill test (drivers only) & Interview at Islamabad.
No TA/DA will be admissible for appearing in Skill test/ inteNiew.
Information provided in application form and relevant documents provided by applicants will be verified in due process. In case of any forged documents/incorrect information, the Commission reserve the right to cancel candidature at any stage (even after employment if so discovered later) and to initiate a legal action against the applicant.
Official Advertisement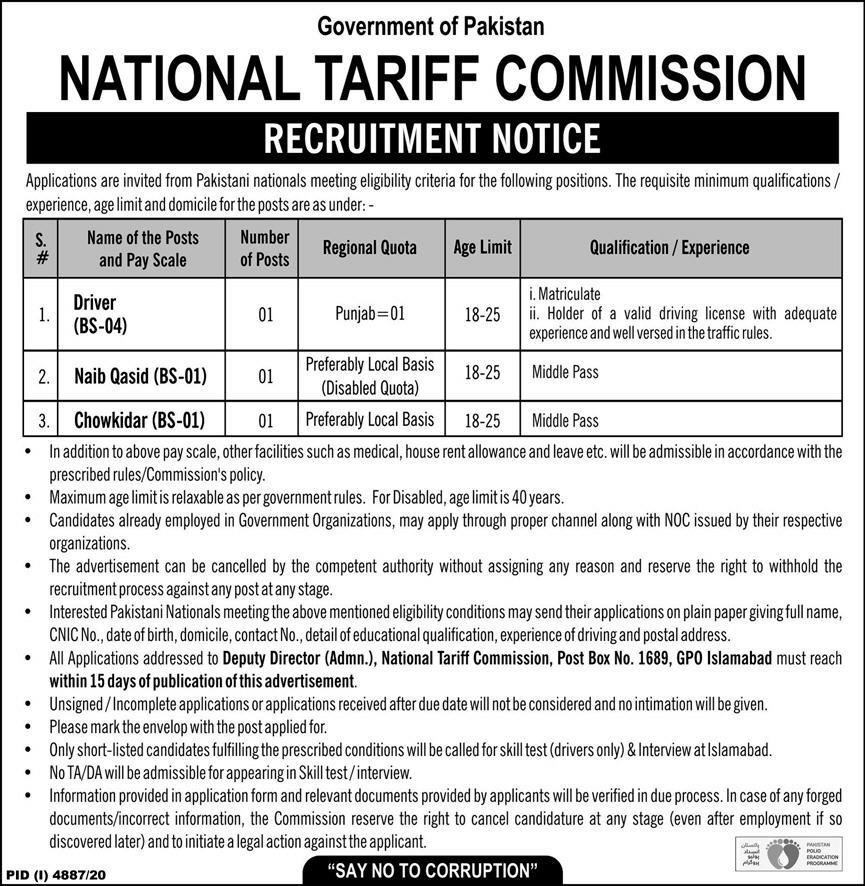 You Should Follow Us for Next Updates
Brief Information
| | |
| --- | --- |
| Title | National Tariff Commission Jobs 2021 |
| Posted on | 2021-03-09 |
| Valid Through | 2021-03-25 |
| Organization | National Tariff Commission |
| Location | Islamabad |
| Minimum Salary | 15000 |
| Maximum Salary | 35000 |