Lecturer & Non Teaching Jobs are announced in National College of Arts Lahore & Rawalpindi Campus.
NCA is Government institute and well renowned college of arts.
Details of Lecturer Jobs in NCA:-
Lecturer Required in 
DEPARTMENT OF ARCHITECTURE

DEPARTMENT OF FINE ARTS

DEPARTMENT OF CULTURAL STUDIES

FACULTY OF DESIGN

DEPARTMENT OF MULTIMEDIA ARTS

DEPARTMENT OF VISUAL ARTS

DEPARTMENT OF I.T
Non Teaching Jobs for Lahore & Rawalpindi Campus
Deputy Registrar

Hostel Superintendent (Girls)

Estate Superintendent

Stenotypist

Storekeeper

Art Shop Keeper

Telephone Operator

Machine Operator

Girls Hostel Cook

Conductor

Studio Attendant

Mali

Sweeper

Assistant Audit & Accounts

Computer Operator

UDC

Machine Operator

Driver

Restorer

Bahishti

Assistant Caretaker




& Much More
---
How to Apply for NCA Jobs 2019?
The Application Forms are given below with Challan Form for Teaching & Non teaching Jobs.
1.Download Advertisement
2.Download Eligibility Criteria
3.Download Application Form (Teaching Posts)
4.Download Application Form (Non-Teaching Posts)
5.Download Bank Challan
---
Official Advertisement Published in Express Newspaper.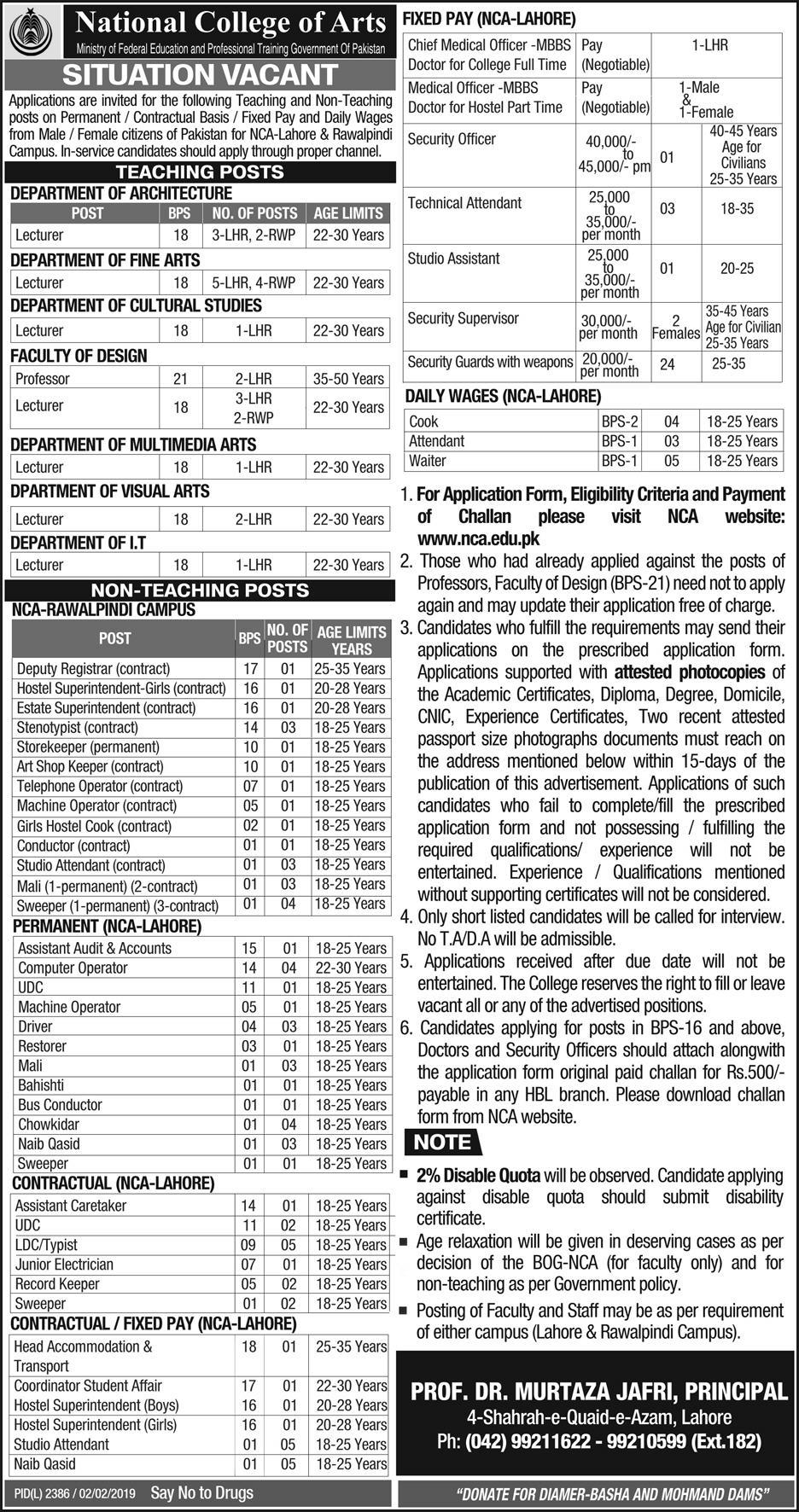 ---
About National College of Arts
NCA is ideally located in the heart of the cultural capital and enjoys a historically rich neighbourhood. The College is flanked on either side by the Lahore Museum and the Town Hall respectively, with the Punjab University Old Campus across the road. The lure of the city for students is not just limited to the magic of history and the world heritage sites. The area between the Badshahi Mosque and the NCA is a treasure trove of materials, from the conventional to the contemporary. This is a city where people make things on site and a livings is made from ideas; from metalwork and plastics to print workshops and digital art. This is an extraordinary space for research, collaboration and innovation, one that is utilized by NCA students as a home away from home from the first day of their entrance into the College.
Not far away is Royal Park, the iconic cinema district where the Pakistani film industry lived and worked in an air of its own creation. Cinema hoardings with their unique style were painted and repainted in its narrow lanes.
Recently Lahore has begun to reclaim its own in South Asia, the city is host to theatre, art exhibitions, music festivals, symposia and lectures conducted all year round, with local and international participation, all of which are accessible to the students of the NCA.
What is unique about studying at the NCA is that students are not merely voyeurs in the drama of a city. Students of the NCA take their performances into the public sphere, in its streets, galleries and work in its industries.