Join Pakistan Navy Civilian Jobs Batch 2019 A – Pakistan Navy
Pakistan Navy is one of the best departments in armed forces. Pakistan Navy is federal Government Security Force.
Pakistan Navy Headquarters are in Islamabad. Pakistan Navy Other Offices & Branches are also in Karachi because the main jobs and operations are in Karachi.
Pakistan Navy offers its commission Jobs & Sailor jobs twice a year. Pakistan Navy also offers civilian jobs for Pakistani citizens on the basis of merit.
These jobs are offered twice a year with different number of vacancies on different scales.
These jobs are published in Express newspaper.
Currently Pakistan Navy Offering Civilian Jobs batch 2019 A.
The Vacancies offered in Pak Navy Batch 2019 A Civilians are:-
Naval Headquarters Islamabad Jobs
07 Seats
01 Seat
Data Entry Operator BPS 11
02 Seats
Upper Division Clerk Bps 11
15 Seats
Lower Division Clerk Bps 09
15 Seats
Senior Proof Reader Bps 07
01 Seat
Duplicating Machine Operator Bps 04
02 Seats
01 Seat
---
PNCA Karachi Jobs
26 Seats
60 Seats
80 Seats
Assistant Leading Man Bps 11
107 Seats
300 Seats
45 Seats
274 Seats
Civilian Apprentice Bps 07
250 Seats
04 Seats
Data Entry Operator Bps 12
14 Seats
131 Seats
---
Official Advertisement.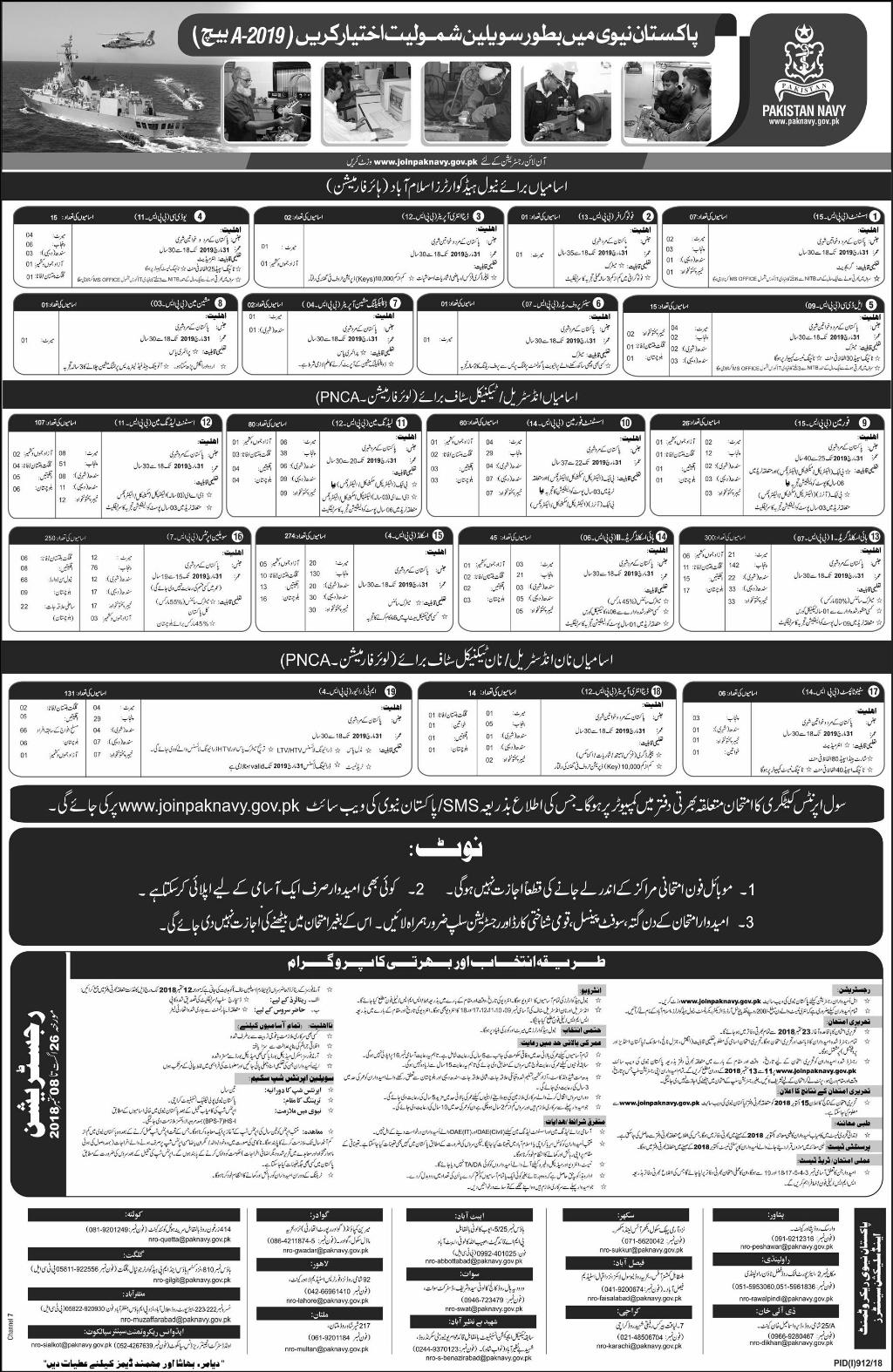 The Last Date is 08 September 2018.
How to Apply for Pakistan Navy Civilian Jobs 2019 A?
The Application Process is very simple and easy.
First of All you have to register online on Pakistan Navy Official Website
Recruitment Process of Pakistan Navy Civilian Jobs 2019 A.
Pakistan Navy will issue a slip after 2 or 3 days then there will be written test.
After Passing Written Test there will be Phycological test
After that there will be medical.
After medical there will be interview
After Interview there will be final merit list & Security clearance
After that there will be joining.
Parho Pakistan is making sure to inform you about these advertisements on time and guide you to apply for better future in federal government of Pakistan.
We Inform our Followers through Facebook Page, Facebook Group, SMS, Email Alerts & Linkedin.
To Subscribe Email Alerts Please Submit your email address on top right corner of our website.
To Stay updated with Latest Jobs via Facebook Join our Facebook Group.
Parho Pakistan Provides Latest Jobs from Different Government & Private Organizations. Parho Pakistan never publish a fake advertisement without any reference. You can trust on the advertisement on our website with the given reference of source like Newspaper, Official Websites of FPSC, PPSC etc.
More Current Hot Jobs are given below.