NUTECH is nominated by the Government of Pakistan as a "Sending Organization" for TITP Japan. Candidates will serve in Japan for 3 to 5 years and will learn skills. They will also earn. Males & females of 18-40 Years can apply for these internships.
The last date of online application is 6 March 2022.
Important Points:
Online Line Registration of all eligible candidates will be carried as per given timeline in advertisement. A candidate can apply in only One Category.
Shortlisting of candidates will be done on the basis of qualification / experience and Japanese Language certification (if held).
Only shortlisted candidate will be called for Interview through online generated Slips.
Final selection will be carried out through NUTECH Selection Board.
Seminar will be conducted for finally Selected Candidates for briefing on all aspects before 1 week of the start of Basic Japanese Language Class.
Selected Candidates will be called for Basic Japanese Language / customs & way of working in Japan for 3 – 4 months as per schedule issued by NUTECH.
Hostel facility is not available for TITP candidates.
Interns will be paid as per Japanese Labor Laws / Policies / Regulations during internship in Japan.
NUTECH reserves the right to cancel any candidate registration application form at any stage.
NUTECH will not be responsible for any change in TITP- Japan Program due to COVID-19 restrictions or changes in Govt Policies (Japan / Pakistan).
NUTECH will be charging approx Rs. 630,000 from each Technical Intern.
For more details & online application visit NUTECH Official website.
Advertisement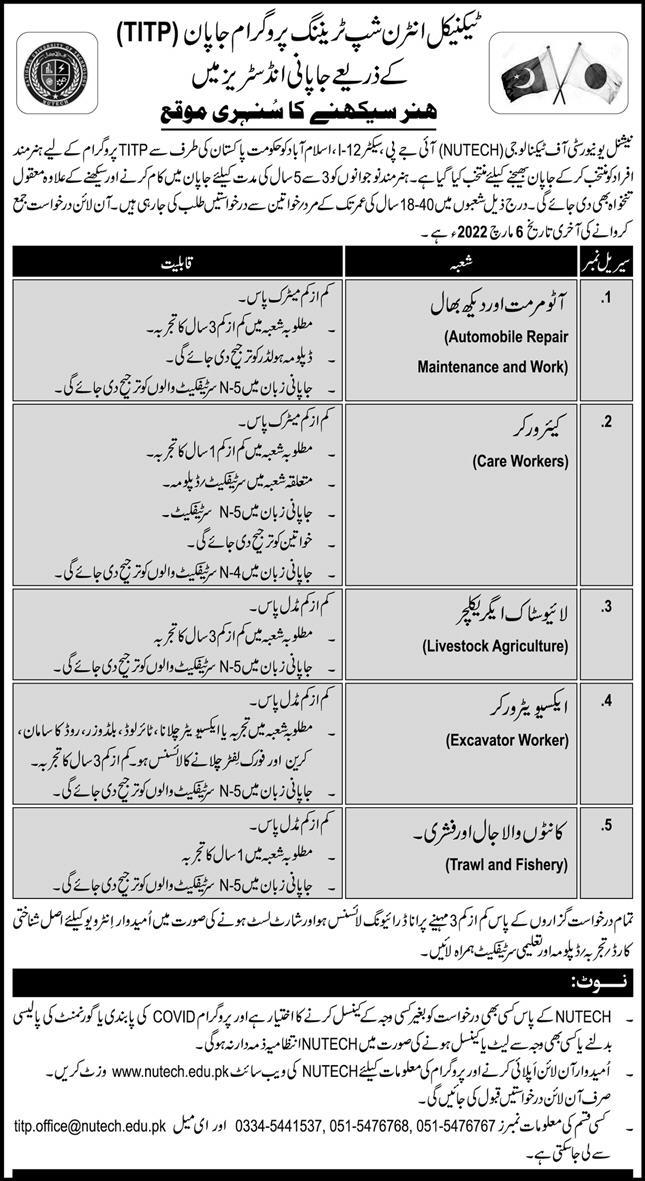 Follow Us
For daily job alerts Join our Facebook Group.
Tiktok Users you can Follow Us on TikTok.
Direct Contact Us on Facebook on Parho Pakistan Official ID
On Twitter Join us on Twitter https://twitter.com/parhojobs.
For Instagram Lovers we are live and you can follow us on Instagram.
For all the latest vacancies list Visit the Main Page of Parho Pakistan – Latest Jobs in Pakistan.
For any Query related to Parho Pakistan Whatsapp on 0307-2277888.