Faisal Masjid is one of the beautiful masjids located in E8 Islamabad. Faisal Masjid has its own organizational system. The organization has announced positions for Qari also known as Quran Reciters for Laila tul Qadar and other nights of Ramadan.
Details of Faisal Masjid Islamabad Jobs 2023
These Qari will be selected for the 21st to 29th Nights of Ramadan 2023. They will be honored with hadia and other gifts. The selection criteria are given below. Dawah Academy of International Islamic University, Islamabad (IIUI) is the managing authority of this program. The age limit is 22 to 45 years.
All interested candidates will send their recorded video of a 1-minute Quran Recitation to the following WhatsApp numbers. 0312-3434755, 03442392092, 03485138467, 03009756180.
The last date to send the video is 17 March 2023. In first phase videos and then administration will call the selected Qari to the Faisal Masjid Islamabad.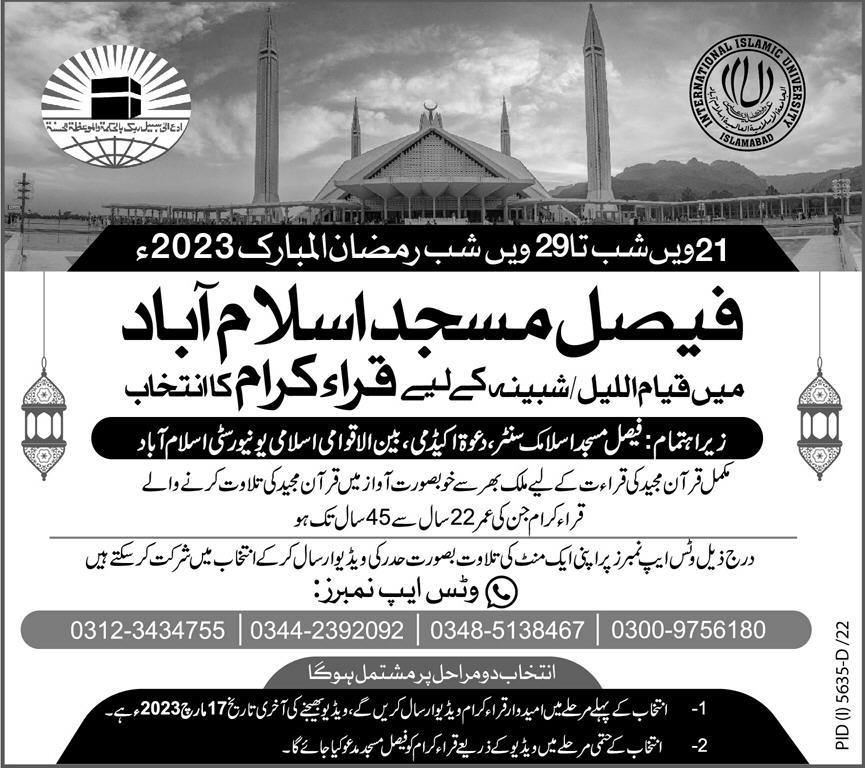 Follow Us Here.
For daily job alerts Join our Facebook Group.
TikTok Users you can Follow Us on TikTok.
Direct Contact Us on Facebook on Parho Pakistan Official ID.
On Twitter Join us on Twitter https://twitter.com/parhojobs.
For Instagram Lovers we are live and you can follow us on Instagram.
For all the latest vacancies list Visit the Main Page of Parho Pakistan – Latest Jobs in Pakistan.
For Whatsapp Alerts 0309-1110096.
Also Check Fazaia Schools and Colleges Jobs 2023 – Pakistan Air Force PAF